For those of us who know and love him, there was excitement in the rumors earlier this year that Jay Maisel had a new book in the works. Would this finally be the year that we would see the arrival of the big, major, all encompassing, coffee table, retrospective book by the master of color photography? Apparently, not yet. After all, this is Jay's world and he's always done things his way. (If Sinatra thought the song, My Way was about himself, he obviously never had the good fortune to meet Jay). At 83, Jay is in one of his most prolific periods in that he has come out with 2 new books in the past 6 months and a third expected in 2015.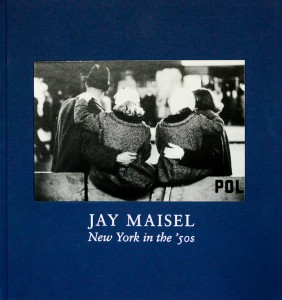 New York in the '50s caught everyone off guard. A black and white photography book by the master of color??? It was a bold and interesting idea spearheaded by the gallery owner Peter Fetterman. New York in the '50s illustrates Jay's earliest work in photography with his all time favorite muse, New York City. Influenced by photographers like Robert Frank and Cartier-Bresson, his captures incorporate moments of joy and celebration as well as the light and gesture of city life seen with a strong graphic sensibility and a curious eye.
As I look at this book over and over, I keep trying to put Jay, the color photographer, out of my mind but his presence keeps sneaking through in shades of gray and I begin to see the traces of his signature style evolve as well as a hint of what's to come.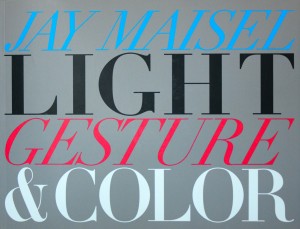 Light, Color and Gesture is not only the title of Jay's acclaimed workshop that he's been conducting for decades, but also the title for his newest book. The title, of course, tells it all. These are the three themes that not only make up Jay's body of work but also are the three elements that for the past 60 years continually have captivated him when he's out there shooting.
While the book is illustrated with some of Jay's iconic photographs, there are many new images included as well that help define those themes. For me, the best part of this book is Jay's commentary on the photographs. If you know Jay, or have ever had the opportunity to hear him speak, this is like a personal conversation to be relished! Honest, humorous, profane… it's all Jay and his personal philosophy on life and photography… the world according to Jay. Unlike a lot of photography books, this isn't one that you'll look at once and put back on the bookshelf. This is a book that you'll find yourself going back to frequently to study the photographs as well as savor the perceptive wit and wisdom of the one and only, Jay Maisel.
Now, Jay, about that big color retrospective book……